"In good company…"

Dear Deolinda,
Today I'm reading a book titled Immortal Heroes of the World. The cover design includes photographs of Abraham Lincoln, Nelson Mandela, Vladimir Lenin, Mahatma Gandhi, Karl Marx, Fidel Castro and Martin Luther King, Jr.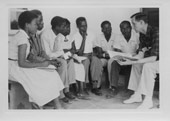 Your smiling face is not among that august company on the cover, but, guess what? An account of your short life appears on the inside pages of the book under the designation, "The Immortal National Heroine of Angola."
Once again, I find myself reflecting about those early days for both of us after I arrived as such a greenhorn to Africa. There you were, welcoming me to your life and culture without wrapping any guilt around my own unwitting participation in the colonial blanket of wrong perpetrated upon your people. I only experienced your warm welcome as I tried to be open to your and other Angolans' deep longings to reclaim what rightfully belonged to you.
While we young missionaries were sailing aboard the Serpa Pinto we reveled in our good fortune in the quarters we were assigned for the long passage from Lisbon to Luanda. We were given the stateroom occupied by Alfred Lunt and Lynn Fontaine on its maiden voyage, a luxury that we thoroughly appreciated after our close quarters from New York to Lisbon six months earlier. That first experience for me on ocean waters was accompanied by homesickness, seasickness and a full awareness that the usually dry creek bed on our Texas farm was no preparation for this watery experience. No land. No sand storms. Only water as far as the eye could see.
Once we had disembarked from the Serpa Pinto we were formally greeted by designated spokespersons from both the missionary and African church communities. The Portuguese greetings were in a version of the language we learned to expect: very flowery Portuguese. But within the limitations of our newly acquired language skills and the words we sometimes missed, we still knew instinctively that the "welcome to our land" expressions were sincere.
And you and other young people ("jovens" in Portuguese) had your own theatrical ways of welcoming us young missionaries to the land of your birth. Back at the mission compound near downtown Luanda, you invited us to witness some of the most dramatic entertainment produced on any stage on earth. Move over, Broadway.
The music was pure harmony and rhythm. Never had I heard the hymns of my childhood sung with such beauty and exuberance.
For the dramatic skits, you did your homework well, creating your own interpretations of our American life, even acknowledging the great American pastime of baseball.
And you, Deolinda, favored us with one of your poems, beautifully rendered.
As a group you danced. You sang Western hymns that long ago missionaries had gratuitously translated from English to Portuguese or Kimbundu so you could appropriately express your faith to the Christian god we had delivered from our Western shores. A few of them you sang in English, a language you had been exposed to by missionary teachers and as part of your early school curriculum in mission schools.
The book I'm reading today describes you as one of the fresh crop of students with progressive and nationalist ideas, an outstanding young leader of the country of Angola.
According to the book, you were born February 10, 1939 in Ikolo-i-Bengo, the eighth child of Methodist parents, your father a pastor of the local village church. They sent you to the mission school and following that to secondary school in Luanda, where you excelled and earned a grant for study in Sao Paulo, Brazil.
All these years later, Deolinda, those letters from you, written from Brazil, still speak to my heart.