Letters to
Deolinda Rodrigues de Almeida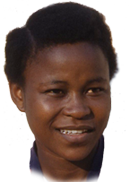 Courageous friend, revered by your people
Your correspondence with people far and wide was legendary. You wrote to me so many years ago. Finally, dear Deolinda, here are my replies.
Your devoted friend,
Marcia Hinds Gleckler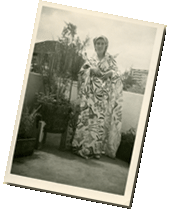 Dear Deolinda,
You were fifteen years old, I was 21, when we first met. You and other Angolan young people educated by the mission were beginning to search for your Kimbundu roots. As our friendship grew, you designed and hand lettered a birthday card for me dated March 28, 1957, in Kimbundu. Another time, you hired a dressmaker to make a set of African "panos"—traditional dress created out of yards of cotton fabric—one for yourself, an identical one for me. I kept mine all these years, and it has become part of the design for these pages.
Reading the letters again that you started writing after our A-3 group left Angola in 1958, some of them scolding me for not replying, I knew I had to write. This is my belated tribute to you, dear friend, who gave your life as the ultimate sacrifice for your people at age 28.
Marcia