"Angola's fresh start…"

Dear Deolinda,
Soon after writing my last reflections about your diary entries written from Chicago in 1961, and the reports of chaos and bloodshed taking place back in your beloved Angola, I received a copy of your poem, "Luanda":
Luanda
No longer the Luanda we once knew
the shade of the Mulemba tree
the Caconeiras and Piteiras
bringing us joy.
Instead, in their place
hi-rise buildings
occupy the sacred land
where familiar lovely gardens grew.
I am distressed
because Luanda is no longer
the beautiful African city
of my heart.
Do people today
find happiness here?
Unhappy people
greatly need Christ and school.
A sad truth.
How long can we wait?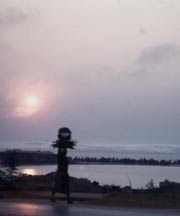 You wrote the poem in 1956, during the years when our group of A-3's was busily involved in various job assignments to augment the work of the long-term missionaries. It was published in O Estandarte, the ecumenical newspaper read by people of all Protestant denominations in Angola. Your best friend from those days, Loid'Ana dos Santos, sent it to me via email last week, arriving here fifty years from the time of your 1961 diary entries.
Ironically, last week a friend alerted me about a USA Today 16-page supplement titled "Angola: Unlimited potential, bountiful resources." The photograph featured on page 1 was captioned: Luanda, Angola's capital, one of the world's most expensive cities due to its reliance on imports.
The feature article opens with a summary of how Angola's economic development was affected by the 27-year civil war that continued long after your self-sacrificing gift to the cause of freedom in 1967.
The numbers of lives lost and displaced are appalling: between 500,000 and one million people killed and over four million displaced.
We have been saddened by so many stories about landmines that continue to devastate the rural areas and the perils that unsuspecting children are subject to every day, of possibly stumbling across a deadly bomb as they innocently play in the fields or gardens.
For that reason alone, agriculture suffered enormously through those years. Luanda was crowded by hordes of people seeking safety and refuge. The general population sank into despair as unhealthy living conditions almost guaranteed spreading disease. It's almost a certainty that your poem's mention of the need for schools was placed on the back burner of the recovery agenda.
Still, there is now optimism in the country led by President Jose Eduardo dos Santos—who as a boy played basketball on Burl's youth team at the mission.
According to the article, Angola is enjoying spectacular economic growth, and now ranks as the seventh fastest growing economy in the world. Income from oil and diamonds is pushing huge reconstruction projects, and a reviving agricultural sector promises less dependence on imported foods. People may be able to move back into the villages and towns, leaving the crowded cities, farming their own land and expanding food production.
The front-page articles that you'll be most interested in, Deolinda, feature photographs of two women who play key roles in the march toward future prosperity in your beloved country.
One pictures Josefina Diakite, Ambassador of Angola to the U.S. The article, titled "Angola's fresh start," speaks of Secretary of State Hillary Clinton's visit to Angola in 2009, when she lauded the country's economic diversification and massive improvements in the infrastructure. That included education, Deolinda, not just in the cities but in rural areas, too.
The other photo is of Dr. Albina Africano, Special Advisor to the President for Regional Affairs. The article, "Diplomatic excellence," speaks of Angola's leadership in the Southern Africa Development Community. Dr. Africano is one of the highest-ranking women ministers in Africa. She has overseen the tremendous expansion of the oil sector.
Of course, I give you credit, Deolinda, for your dogged insistence that women be included in top leadership roles, during your own short time as head of women's work in Angola.
There's much, much more in this enticing publication that you would appreciate, my friend. Perhaps the articles that held my attention most were the ones called "Angola Takes Flight" and "Behind the scenes of airport rehabilitation," that describe planned improvements to Luanda's airport.
That's the airport where you and other friends escorted us to our flights back to the U.S. in 1958. It has been modernized and enlarged. This happened once peace was achieved. Another, larger, airport is planned as the world pays more and more attention to this country named after Ngola, an African king.
With the statue of you and the other two revolutionary women gracing the downtown Luanda plaza, and Avenida Deolinda de Rodrigues a major thoroughfare for all sorts of activities all over the city, you are very, very much a presence in this new Luanda.