"Innocence of children…"

Dear Deolinda,
Today I looked again at the postcard picture of the Monumento as Heroinas Angolanas—the monument honoring you and two other heroines whose names arose from the ashes of the conflicts that raged for years in Angola.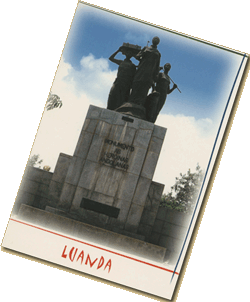 Another statue, erected in Huambo (formerly Nova Lisboa), honored the role you and other Angolan women played in gaining national independence in 1975 and for your contributions during the long years of struggle to bring about peace. The statue was consecrated on March 2, 2008, marking Angolan Women's Day. Officials who honored you pointed to your courage and dedication as examples of the golden pages of Angola's history. At your young age, you had already served in national leadership roles, and were recognized as the founder and first president of Angola's Women's Organization. You were also well known for your activities with the Angolan Volunteer Corps for Refugee Assistance headquartered in Leopoldville in the Congo.
The two postcards—one a close-up of the Luanda monument, the other depicting scenes from current day Luanda—were delivered to me by Menina Teena following one of her trips back to Angola. As you know, she worked mostly in the Quessua mission, whereas Luanda was my home away from home for those three memorable years.
As I reflect again and again on the legacy you left from your short life, I go back to your love of the children. I didn't know you as a child, only as a young woman with an incredible heart for little children and for those of us who, however briefly, came to be a part of your life, and theirs.
I do know that you grew up surrounded by a strong and devoted family, where you learned early the dynamics of staying faithful to the things you believed in. You had the example of your own mother's love for her large family. And your extended family seemed always to have room for one more; you and your cousin Agostinho Neto, among others, were welcomed during times when you were continuing your studies in Luanda.
Agostinho not only became the first President of the Republic of Angola, but others from your close family, like you, held high posts in the government. Your brother Roberto rose to Speaker of the House of the nation's Parliament, and now serves as Vice President of the MPLA in Angola.
You and others from the youth group received Crusade Scholarships from the Methodist Church for study abroad. That's where I picked up the story of your fateful self-summons to go back to Angola to be with your people at such terrible risk to your life. You were a student at Drew University when you called from New York to inform Rose Watson (another of our mission team from the 1950's who as Methodist Director of the Africa Education Committee helped you with the admissions process for study at Drew) and adamantly insisted that you meant to leave the country, that your studies at that point had no relevance. You had a higher calling: to serve your country.
That return cost you your life.
In the spring of 1967, you and others were asked to deliver food and medicine to fighting members of the Popular Movement for the Liberation of Angola (MPLA). You were one of those captured by the Congo-based Front for the National Liberation of Angola, an opposition group. The few survivors fulfilled their mission, but after being subjected to torture in a Zaire prison, you were killed on March 2. Your courage is part of a national celebration every year on Angola Women's Day.
Again, Deolinda, as I search for meaning in all this, I think of the children of the day care center.
I found those letters, too—the ones you helped the children write to me after our group left Luanda in March of 1958. They were sent the following month, short hand-written notes, their childish wishes dictated to you or to some other scribe and lovingly placed into an envelope addressed to me in that land they knew was somewhere far from Africa.
Francisco Gaspar politely asked if I, Menina Marcia, might please do a grand favor and send a ball for them to play with, sending his "comprimentos" and hopes for my good health.

Antonia Ferreira addressed me as "Professora" Marcia, and said she often remembered me.

Marinha de Fatima wanted to know when I would be returning to Angola, and sent hugs and kisses. We will never forget you, she said, and asked that I not forget them.

Antonio Alberto hoped I was having many great adventures.

Candido da Piedade emphasized that the ball I was asked to send should be mailed via first class mail, and admitted that he had become a bit bored because there wasn't enough activity at the Center.

And more.
So what happened to those innocent children during all the years of war and chaos? Did they even survive to adulthood through all the bloody conflicts? Did they grow up and, like you, Deolinda, make major contributions to their Mother Africa, to their beloved Angola?