"A martyr's death…"

Dear Deolinda,
In 1959 you wrote another letter asking for advice and support for the move for independence beginning to stir openly in your native Angola: "Please just do what you really can with no harm for you…. If some people have to pay with their lives…let it be ourselves."
Your use of English wasn't perfect in that letter, but you knew the recipient would be unable to read an appeal written in Portuguese or Kimbundu.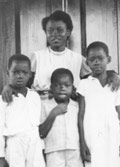 The person who received the letter? Dr. Martin Luther King, Jr.
You added: "It would be good because it is easier for me to suffer with my People than to be well here. Just I have to do something to help Angola before I am jailed too."
You left Angola in 1959, a year after you bade our group of young A-3 missionaries goodbye. You were awarded a scholarship for sociology studies in Brazil, part of ongoing support by the Methodist church and other denominations that had worked in Angola for decades as part of the worldwide missionary enterprise.
Ironically, your training and education made you extremely vulnerable to the workings of history, beginning with early African uprisings against the colonial Portuguese and continuing with many tribal and political wars in a struggle to gain supremacy in formerly European occupied countries.
You left Brazil for the United States in 1960 because there was a risk you would be deported under terms of an extradition treaty between Portugal and Brazil.
You studied for a while at Drew University before following your heart's call to return to Africa in 1962 to direct the Angolan Volunteer Corps for Refugee Assistance in Congo. By then, you were an active part of the Popular Movement for the Liberation of Angola (MPLA).
A simple request prompted your letter to Dr. King. You asked him to send you a copy of his book Stride Toward Freedom. His reply: "Please accept this [a copy of the book] as a gift from me. I hope that you will find this humble work of mine somewhat helpful."
You also inquired if he could find someone with whom you might exchange your "whole, little African stamps collection" for a subscription to Ebony. "It is pretty wonderful that here I may get Ebony by mail with no censorship and no risk of being questioned or arrested because of it."
King thanked you for your kind letter, and said he read every line of it with great interest. He stated that he was encouraged to know of your interest in the freedom of your people. He thought the first step would be to develop real leadership in your country—a person or persons that would be a symbol of the movement for independence. After that, he said, it is not difficult to get the people to follow, and "the more the oppressor seeks to stop and defeat the symbol, the more it solidifies the movement."
He added: "It would be a wonderful thing for you to return to your country with this idea in mind. Freedom is never achieved without suffering and sacrifice. It comes through the persistent work and tireless efforts of dedicated individuals."
He wrote of his awareness of what was happening in other countries in Africa, and of the repercussions that would have in Angola. "And so your real hope lies in the fact that independence will be a reality in the whole of Africa in the next few years. You have my prayers and best wishes for God's blessings in all that you are doing."
You replied that it hurt you more than you thought it would to be away from home, safe in Brazil, while your people were experiencing trying times. "The only thing which becomes me glad is that after prepare myself better I can also serve better my People at Home. This thought and God's presence help me a great deal to bear homesickness."
Reading these heartfelt exchanges between you and Dr. King, written so long ago, it again reveals profoundly one of those great mysteries of life that sweep across our awareness from time to time. Who could have foretold the enormous legacy that Dr. King would leave to the world as leader of the Civil Rights movement of this country before his untimely death? And who could have known that he would have such an astounding influence on you, so young and courageous, encouraging you in your search for ways to serve your beloved people? It would lead you, too, to a martyr's death—the ultimate sacrifice.